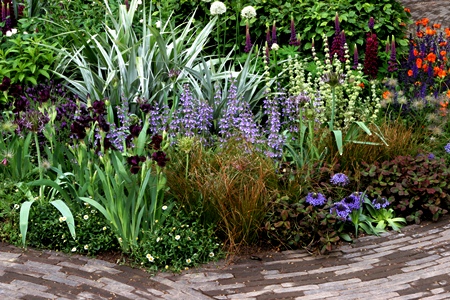 Bill Rose was the runner up in the thinkingardens Chelsea 2013 competition, winning a copy of Chris Young's book. Well done, Bill.
Anne Wareham, editor
A Floral Fantasy by Bill Rose.
Chelsea Flower show is without doubt a floral fantasy. Which I adore. I  cannot help myself, I am both in awe of the displays of flowers, plants and show gardens and full of disdain for the temporary nature of the show.
Of course I am a hypocrite. The worst kind of two faced, double standard, hypocrite that lives in every Acacia Avenue across the land. But yet I cannot control myself when the Royal Horticultural Society says Jump! I Jump and hang in the air waiting to be told when to come back down to earth!
I think its all to with being British. We are unique and quite peculiar in our habits and social behaviour. And Gardens are one of our proudest world class achievements. And Chelsea, I should really give it its full title, the Chelsea Flower Show is the very pinnacle of that achievement. Therefore I must applaud it. Drooooole over it and lovingly adore it.
But it is also two-faced. The first face is that of the grand show gardens and all their perfect (but flawed) glory. The other face is the the pavilion of plants and flowers. Both faces are off the same show. But always separate and never quite equal. The show gardens lord the publicity and the adoration of the public, press and the plutocrats of gardening excess. While the pavilion of plants and flowers is always going to be second best, the bridesmaid. Never once upstaging the pride of the bride.
Yet it is compulsive! Compulsory! All consuming, to watch, to view, to comment and to even envy the Chelsea Flower Show. I would have that French potager garden in my back yard in the blink of an eye. But I am ambivalent about the wish. Yes I want the garden, but I must make that garden by my own hands, not buy it, like buying a new hat, a new car or a new pair of shoes…
The effort of making ones own garden is the pleasure by my own hand and eye is the pleasure that I enjoy.
The show gardens are a fantasy, a flimsy but fatal attraction. The plants and flowers in the pavilion however are the fundamental and factual foundation of my desire.
So I need the Chelsea Flower Show. As much as it needs me. We are addict and obsession locked in a garden room of mutual adoration. We need each other. I need the Chelsea Flower Show and it needs me… And you… And all of the rest of us. Otherwise… It will not be Chelsea… Will it!
Bill Rose