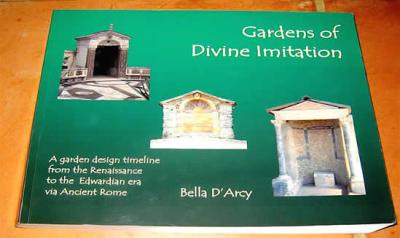 Bella D'Arcy's ambition in this book is to understand what the Edwardian garden makers, Mawson, Peto and Lutyens/Jekyll, were meaning when they referred to "The Italian garden," and how these Italian gardens influenced their own designs and planting.
It is clear to her that the predominate Italian influence comes from visits they made to Italy and from the many books that came out about Italian gardens in the very early part of the 20th century. However, it was not the work of the 20th century Italian garden makers that so influenced their British counterparts, but the remains (for many were in a poor state of repair) of Italian Renaissance gardens.
For examples of these the author centres in on Rome and traces for us how the Renaissance gardens of villas Pia, Madama, D'Este, Farnese, Lante and Aldobrandini were in themselves influenced and informed by the culture of ancient Rome.
I have to confess at the outset that I am not a big reader. But I have visited several of the gardens she refers to in Italy and count Villa Lante and Bomarzo (which, strangely, in my view, only gets the briefest of mentions here – I don't think it fits comfortably into her "model" of the Renaissance gardens) as amongst my favourites.  And I have visited and admired Hestercombe many times. So I was enthusiastic about reviewing this book – and rather disappointed that in many respects I found reading it really quite hard work.
Starting with Donato Bramante's design for The Vatican Belvedere in the early 1500's, D'Arcy demonstrates how he incorporated the many elements of ancient Roman gardens: the staircases, the use of large niches, the sculptures of gods and heroes. All these features were, according to D'Arcy, divine imitations and of course are familiar to all who have visited the Italian Renaissance gardens. The makers and commissioners of these gardens would have been educated in the humanities and would have been able to "read" these gardens and understand the significance of the sculpted figures.  Unlike us in the 21st century and probably much was unavailable to the Edwardian visitors, too.
She goes on to refer us to Pliny's description of his own garden, which contained formal gardens around the house, followed by a labyrinth of walks and finishing with a sacred grove of woodland with temples to ancient gods. D'Arcy claims that Francis Bacon refers to the same three elements in an essay he wrote at the turn of the 16th century but I wasn't convinced by the comparison. She goes on to say that these three elements, too, can be found in most Renaissance gardens and in the Edwardian gardens she refers us to.
But she lost me when she goes into the details of Raphael's villa for Giulio de' Medici (now called Villa Madama). It probably didn't help that I don't know the villa. But despite her inclusion of a recreated plan, I kept stumbling in the detail.  It is complicated as several "Associates" were working under Raphael on this project. It didn't help that in the same paragraph she laments that "if only we had the plan drawn by Antonio da Sangello…." and then refers to "looking at Sangello's plan".
I think the problem here is that D'Arcy's fascination with the various details in plans that do exist for these Italian gardens and her speculations about what may or may not have been built are not adequately supported by page references in the text, (a complaint I have about the book as a whole), by the plans she reproduces or by contemporary illustration about what exists now.
Why the predominance of mostly early 20th century photography throughout the book? She doesn't say. I can only guess that she is trying to relate to what the Edwardian visitors would have seen and thus have been influenced by but the pictures are mostly reproduced too small to get much of a sense of the places. And sadly many of the recent photographs she includes are only of details of the gardens and most are of poor quality.
D'Arcy's introductions to the Italian gardens tell us something about the client and the designer and describes how and why in most cases there are strong connections between them. At the beginning of her description of the extraordinary garden of villa D'Este, she declares that she is going to "look firmly at the mid- sixteenth century".
And at first she keeps to this plan and offers us some interesting insights into what its owner, Cardinal Ippolyte D'Este, intended. But infuriatingly, she not only fails to keep to this intention but creates in her description of negotiating the garden a total confusion, for me at least, by way of confusing her tenses. It becomes unclear whether she is describing what the visitor sees now or what they would have seen in 1575 (or was it 1573?- her text contradicts the caption) when Dupéracs engraving, which she reproduces, was done.  Or, indeed, whether we are seeing the garden in her imagination.
I was surprised that she is quick to defend the retention of the enormous Cypresses which were planted in the 17th century and which now obscure much of view we were intended to see. We hear little from D'Arcy about what she thinks of the gardens as they are now and I would have liked to have heard more.
I was glad when we left the Italian gardens and she turned her attention to the Edwardians by way of an interesting little chapter on the Renaissance planting plans. In fact it is elsewhere and earlier on in the book that D'Arcy points out the very interesting fact that what the Edwardian garden visitors to these gardens saw by way of planting was, in fact a far more grown out and exuberant "greening" of the Renaissance gardens than their designers had intended, largely brought about simply by the neglect that they had received in the previous 300 years.
Thomas Mawson was explicit in acknowledging his debt to the Renaissance gardens and rather succinctly sums up his concept of the Edwardian garden as a Renaissance garden with extra planting.
I had never heard of his garden at Foots Cray Place. This is not surprising as it was never made. And the house, which confusingly D'Arcy says "is a copy of the Villa Rotunda near Vicenza" burnt down in 1949 and its ruin demolished.  I really think D'Arcy seems to have a problem with tense. She tells us that "Foots Cray Place garden is Mawson's Villa D'Este". "Is". Not "Would have been".
In this context I really couldn't be doing with the pages of her description of what her imaginary visitors to this imaginary garden might have encountered. That way madness leads. "If the dream had been realised" she concludes "then there would have been many photographs and no doubt a feature in Country Life". No doubt.
But he did design Dyffryn Garden (which she spells Duffryn) in Cardiff, which was built. You'd have thought she might have made more of this place- it even has a Roman Garden (a dreadful pastiche if you ask me).
At the beginning of the chapter on the Jekyll/Lutyens partnership, D'Arcy states that she seeks to refute the stereotypical view that Lutyens designed the hard landscaping of their gardens and Jekyll filled his designs with plants.  She certainly describes in detail the many and varied accomplishments that the nearly 50 year old Jekyll had achieved prior to their meeting at a tea party when he was just 20. And with reference to Jekyll's writings on the subject of a garden that she would like to create in her imagination, D'Arcy takes most of the chapter to make, for me at least, a convincing case that Hestercombe's design was probably led by Jekyll's knowledge and ideas.  And that these ideas were themselves much affected by her having visited Italy and some at least of the Renaissance gardens in Rome (which Lutyens had not) and her education and experience in Morocco.
D'Arcy almost leaves her comments on the planting at Hestercombe to the very end of this section. But in them she gives us a Jekyll quote (which I am further abridging) which ought to be written in stone on the hearts of all our garden makers:
"When one thinks of the very few plants known for garden use to…those who built and planted the noble gardens of the Renaissance…one cannot help seeing how…in the best and most refined kinds of formal gardening one is more than ever bound to practise of the most severe restraint in the choice of kinds…".
And she quite fairly credits Jekyll for exercising this admirable restraint at Hestercombe.
D'Arcy concludes her book with Harold Peto and the Essex garden of Easton Lodge (which she describes as 'Italian eclectic') and, briefly, his own wonderful garden around his home at Iford Manor, Wiltshire. Peto travelled widely in Italy, and his love of the Italian gardens is clear from the "Romantic Italian garden" he created at Iford manor and decorated with pieces of real (or imitated) ancient Rome. She refers to the little cloister there as reminiscent of the one at Villa Cimbrone in Ravello.  I agree. We once sheltered at Villa Cimbrone from the most stupendous storm. It was candlelit and a wedding party circulated in the warm light – wonderfully romantic. D'Arcy declares herself to be happy at Iford Manor and I was happy to leave this book with such vivid recollections of Iford and of Italy.  Happy, too, that I was able to draw on my memory, as by now D'Arcy had exhausted my powers of imagination.
Charles Hawes' photographic portfolio GAP Photos
Veddw House Garden website
Gardens and People
2009
Bella D'Arcy
20.00
pp240
ISBN 9780956345103