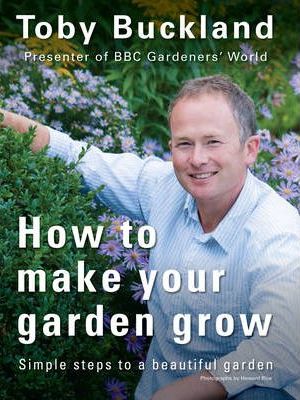 Reviewed by Matthew Appleby
Reissues are fashionable this season in the garden book publishers' world.
Matt Biggs' Complete Book of Vegetables, which features 10 new recipes by top chef Jean-Christophe Novelli, is out again, while Mitchell Beazley understandably want to cash in on Toby Buckland's new fame as Gardener's World lead presenter, bringing out the TV gardener's How to Make Your Garden Grow once more.
First published in 2004, the book's cover then had the words "Toby and Lisa Buckland" on it alongside pictures of watering, digging and shearing. Now it's softback and has just Toby's face and name on the front, with no mention of Lisa.
More significantly, given that Buckland is presenting an hour-long Gardener's World special on the peat issue on 27 March, is that the "beginner's guide to popular garden plants" is now a peat-free zone. Not much use if you're beginning to grow rhododendrons. Buckland says the programme gives the first comprehensive view of peat and makes no prior conclusions on any environmental damage using it causes. But in the book, now due out in April, peat use has been replaced by peat-free references, showing a change in thinking from Buckland.
On page 22 in original 2004 book in a chapter on Grow Japanese Maples in a pot Buckland writes: "Step two 'Mix half-and-half multipurpose compost with a loam-based John Innes No.3."
On p40 in his 2009 book he says: "Mix half-and-half peat free multipurpose compost with a loam-based John Innes No.3."
Buckland denies there have been revisions other than cosmetic changes with pictures and design, including alteration of page order. He says he has been "trying to wean" himself off peat for four years.
Gardener's World proper begins on 3 April, a month later than normal. The BBC now says this is because of snooker scheduling. Mitchell Beazley had to make a last minute postponement of publication of Buckland's book by six weeks as a result.
The book is a bright and simple guide for beginner gardeners and chimes in with Buckland's oft-repeated view that he wants everyone to garden – he's an everyman popularist rather than a polemicist like his predecessor modish Monty Don.
Matthew Appleby – Horticulture Week Deputy Editor and Garden Retail Editor
Matthew Appleby's blog on the Horticulture Week website
Octopus Publishing Group
2009
Toby Buckland
pp160
ISBN 9781845335052