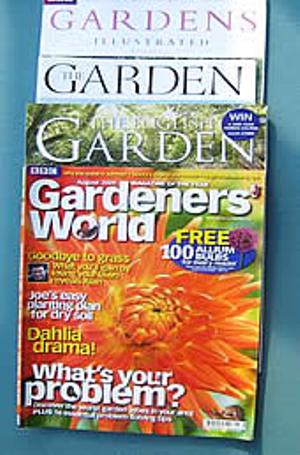 by Matthew Appleby
The garden magazine market is skewed. RHS 'The Garden' goes out to 350,000 of its members -10,000 less than last year – but then again, all garden organisations are losing membership in the same way consumer garden magazines are. Only five years ago the ABC-audited gardening magazines sold more than 1m every six months? Now it's 700,000-750,000.
Sales are tough for rivals to RHS 'The Garden' and 'BBC Gardener's World', which also has an abnormal grasp on the market because it is the mag of the programme and is subliminally advertised every week to 2m viewers. 'Garden Life' from Seven Publishing fell because of this competition.
The weeklies 'Amateur Gardening' and 'Garden News' compete against each other. 'Amateur Gardening' has overtaken broadsheet 'Garden News' in recent years. 'Amateur Gardening' has a tabloid feel and its core audience is older more serious gardeners. 'Garden News' aims at the allotment types and while it has less news punch than 'Amateur Gardening' it has more readers' gardens.
The monthly mags – why should they bother if they have the market sewn up? Well, they do try quite hard. Unless you are looking for serious garden design articles, as this website is.
RHS in its September issue makes use of respected stalwart Roy Lancaster and Andi Clevely. Bizarrely, eco crank John Walker gets an airing, but is blanded out from his usual hairshirt preaching in his glance at an organic backyard. I guess editor Ian Hodgson used John Walker to keep him quiet – JW is one of life's lecturers.
In the news pages the RHS chooses as its lead a ring-round of garden centres. This is a staple of trade mags. The story says garden centres did well this spring. But this is the September issue. Sales in garden centres are at their highest before the end of June. So this isn't very newsworthy.
News pervades the RHS news too – something RHS should be able to do better. Often second on what's happening in its own gardens, this issue features the 'bittersweet' year for RHS. The annus horribilis story begins with president Peter Buckley's death – last December. It goes on about car parking and schools, before in the last sentence mentioning RHS laying off 80 staff. I suppose had to bury this, but really.
Columnist Ursula Buchan is Pooterish as ever. But the RHS has never been that good at debate – I remember a debate on whether you should build over back gardens at the South bank in London. Everyone on the panel said you shouldn't and the audience asked questions about how to kill foxes in your garden.
'Gardener's World' is spot on when on about the glut, and next month with fruit planting. Glut for new gardeners – exactly what they should be writing about. The problem is 'Gardener's World' magazine doesn't tell Gardener's World  programme what to do. But it does have writers sewn up. Alan Titchmarsh's rosy tinted Werther's Originals ramblings on the back page are well read and GW editor Adam Pasco assures me Alan Titchmarsh writes them. I've talked to Pasco and Hodgson about their mags. Their main problem is the move to internet news by gardeners who like to compare what they've grown and their problems. The web also suits regulars such as events, news and new launches of plants, as well as show reviews/previews and columns – which are commentable, unlike in the mag.
Where the web is lacking is in reliable analysis, feel of picture stories and features. People like their mags arriving through the door. Then again one obtuse couple told me they gave up their RHS membership because the mag kept arriving.
Matthew Appleby – Horticulture Week Deputy Editor and Garden Retail Editor
Matthew Appleby's blog on the Horticulture Week website