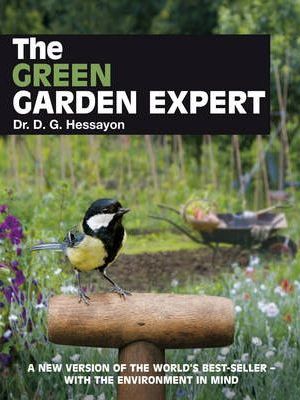 Apropos of little furry animals: "Nature isn't all primroses and dolphins. Cancer is just as natural as the nightingale." Gwyneth Lewis, Prospect, November 2008.
Reviewed by Matthew Appleby
Dr Hessayon has gone green
This unlikely, revisionist transformation follows 50 years and more than 50 'Expert' gardening books published under the PBI banner.
The world's best-selling garden writer's latest, The Green Garden Expert, says: "Whether you decide upon a completely organic approach or prefer to take just a few steps along the environmentally-friendly road, The Green Garden Expert explains the options."
But does this really stand up?
Chems and ferts maker Pan Britannica Industries, where Hessayon was chief scientist, published and distributed the books until the 2000s. PBI is now part of Bayer, the German pharmaceutical and chemical company. Bayer no longer sees Hess as core business so Transworld now publishes the Hessayon guide series.
Latest releases include a Cat Expert book and a Hessayon Xmas miscellany. And now environmentally-friendly Hess. Is this squeezing the franchise too hard?
In a typically anodyne recent Daily Telegraph Q&A, with vetted emailed questions and answers, Hess says: "Once we had a 'front room'' attitude, the garden had to be as neat as a pin and free from all weeds and insect-eaten leaves. Now our plot is more of an "outdoor living room''. As The Green Garden Expert says, learn to live with daisies and buttercups."
He adds: "Unfortunately, the range of organic sprays continues to decline. I stick to good old Growmore and also Fish, Blood and Bone – the best of the organics. During my active years I regarded myself as a gardener who kept the environment in mind. I would use products and techniques that I felt would not harm the plants, people or the environment. There were many chemicals I would not use."
Hessayon is a living legend and I'm one of the few to interview him face-to-face and on the phone – perhaps techniques the Telegraph could try. He's not a green and never has been. Hessayon's books originally sprang out of his work at PBI and include numerous references to products he helped develop. The books popularised these chemical products. But today's gardener is less keen on using chemicals in the garden – and it seems Dr Hessayon wants to rewrite the past to pretend he always was too. His advice was of its time. He gave the options available. This green book updates for modern tastes. But it doesn't sit well with what's gone before.
The stats suggest that most gardeners have a Hessayon on their bookshelves. I chose a 1986 edition of Dr Hess's first book, The Garden Expert, to compare to the Green Garden Expert. The 128-page 1986 guide includes 21 pages on 'troubles' and six pages on fertilizers.
Only 20 years ago, the chemicals Hessayon suggests include: Chlorophos and Hexyl on grubs, Slug Gard on woodlice, snails and slugs, Anti-Ant and Nippon on ants, Multiveg on flea beetles, Racumen Mouse Bait, Sprayday, Multirose, Derris, Malathion Greenfly Killer, Long-Last, Fenitrothion, Supercarb on mildew, Cheshunt compound solution on plant viruses, Crop Saver, Dithane on blight, Calomel dust on club root as well as the herbicides Alloxydim-Sodium, Aminotriazole, Atrazine, 2,4-D, Dalapon, Dicamba, Dichlobenil, Glyphosate, MCPA. Paraquat, Diquat (on weeds "no persistence in soil-very popular"), Propachlor, Simazine and Sodium Chlorate.
Times have changed. The EU banned paraquat in 2007 after links to Parkinson's. It is toxic to humans, as diquat can be. Malathion has been linked to cancer by Pesticides Action Network and Aminotriazole isn't used on food crops because of carcinogenic properties. Atrazine was banned by the EU in 2004 for persistence in groundwater and links to cancer. The UK ban on atrazine and simazine use in non-agricultural situations came into force on 31 August 1993. The list goes on.
Writing about fertilizers, Hess said in 1986 that inorganics are often extracted from the earth and "every bit as natural as Bone Meal". Others have "earned the titles synthetic or artificial" but Hess reassures that "plants can't tell the difference between plant foods from natural or synthetic sources" and they "breakdown to the same nutrients" before uptake. He's the scientist and his advice was accepted and acceptable at the time. But this book attempts to rewrite history. A leopard can't change its spots.
Matthew Appleby – Horticulture Week Deputy Editor and Garden Retail Editor
Matthew Appleby's blog on the Horticulture Week website
Transworld Publishing
2009
Dr D G Hessayon
pp128
ISBN 9780903505635